If the cozy smell of boiling coffee fills the room, you might as well start to read this review I wrote about a mystery book, 'A Little Bird Told Me' which is available since September 13!
I got this book from Agora Books and NetGalley in exchange for my honest and unbiased opinion.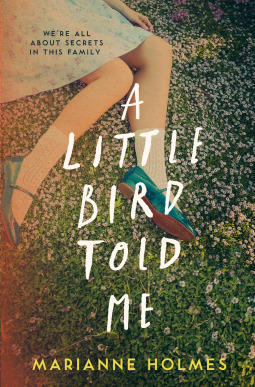 Discovery:
This is a book that sounded like something I would love based on several aspects. It is a mystery, and I love suspense, it's set on one timeline in the 60's and one in the 80's, and I like to read about other times than ours. (I know it wasn't so long ago, but still.) Seeing it all from the child's perspective sounded interesting, as well. These are the reasons I requested this novel on NetGalley, and I was so glad to be accepted!
Brainstorm:
This was a beautifully written book with a great premise of a story. I love the way the authoress writes, and the story itself, I mean what actually happened (the mysterious events with mysterious background), was a very intriguing and exciting idea.
The actual execution is not so perfect, though. For the first couple of chapters, I was very interested in finding out what was happening, what it is all about, but with time I started to get bored because everything was going so slowly. I like the atmosphere of suspense, and it was nicely created, but I felt like I knew too little and too much at the same time. The reveal of the 'big things', of the actual happenings, is dragged out until like 60-70% in the novel, and by the half it felt very tiring, because I still didn't know what exactly we are dealing with. On the other hand, I figured out the very basics of it, the nature of what happened very early, and way long before the protagonist, Robyn did. So though it is a very well thought-out mystery, at the end of the day what happened to me was that I was getting tired of Robyn finding out about things I (and everyone else in the book) already knew, while I was frustrated for the majority of the book about not getting enough clues about things that I felt like would matter more and would be more interesting. So even though the information and clues were gradually unfolded, I felt like I only got to know everything in the last chapters.
I think this was because of the main character, Robyn. She was so clueless that it was crazy annoying! I get that she is a child (on one timeline in the story), and even on the other timeline she's only a young adult, but she simply can't add two plus two together. I like that we see the happenings through a child's eyes, this is a very interesting perspective, but many times I felt like her character's behavior is a little forced. She's not simply naive, innocent and confused, but seems outright dumb, even for a 9 year-old. I don't dare to say that she was a badly written character, because I'm not completely sure a child couldn't turn out this way, living the way she did, not being told about anything at all that's even a bit complicated. She was an annoying person nonetheless.
Otherwise, I liked the characterization. People in the book were believable, and their relationships were written very subtly, things were rather made felt by words than were actually written down, and that's something I like very much.
The last 30% saved this book for me. Though the proportions (of where/when in the novel the story is told) are a bit off, this is a very good story and a great mystery in the background. I guessed the major plot twist at the end (I basically guessed everything), but it was far from being obvious, and it didn't take away much from the enjoyment. It was a clever plot twist, and looking back, I see how cleverly the hints were hidden. I'm sure many, or probably the majority of the readers will not see everything coming. I'm just not easy to surprise. 🙂
The very ending (I'm thinking of the last page) left me a bit unfinished, I'm really keen to find out what happens next, and unfortunately, we don't find out about it, we only get to know everything that happened in the past.
Let's give it a grade!
Story: 3/5
Characters: 4/5
Style: 4/5
The Subjective Factor: 3/5
Uniqueness:
I'm not sure this novel is unique, but it has a very good plot, and it deals with things like domestic violence and bullying, and I think a very important moral of the book is how ignorant the community, the people surrounding the affected and the events are. It may not be the most well-executed novel, but it certainly is an important one.
Recommend to:
If you like a cleverly thought-out mystery, and you have MUCH patience, than I wholeheartedly recommend this book for you. Also, I think we should watch out for the author, I think she might come up with amazing things later!
It's not exactly psychological fiction, but I think it would be interesting if you're keen on it, as well.
Drink tip:
A Bloody Mary comes to mind.
Music room:
'Never Again' by Nickelback, 'Dear Father' by Black Sabbath…
Future:
All in all, I would say this is a good first novel based on a great idea. I'm not sure this book is for everyone, but I would read another book by this author, because I feel like she would write amazing novels, given the chance of publishing more.
About the Author
Marianne Holmes was born in Cyprus to RAF parents and bounced between the UK, Germany, Kuwait and Belgium until firmly basing herself in London – well, apart from those years in the Peak District. A love of language led to degrees in Classics and Linguistics from the University of London but her desire to pay the mortgage steered her to a career in Marketing. After distracting herself in all sorts of ways over the years – sailing, flying, volunteering and running away to India – she is now definitely, absolutely concentrating on her writing. Well, that and making sure her children get fed, clothed and entertained. Obviously. A Little Bird Told Me is Marianne's first novel.
Please, take a look at the other stops of this blog tour!
Apparently there's a tour calendar with the Twitter names and the blog titles as well! That's cool! (well, mind's not quite accurate, but I'm sure I'm searchable this way, too! 😅😁)
Your comments, as always, I welcome below! 😉
Hugs:)